After answering the eternal question: why do most DJs use Mac for your events? Today we will respond to another big question: what software we use in our actions? We will try to discover what is best software, best suited our needs and their prices prices. Only we will play the most important applications available for OS X of the many that are available in the market and I am sure you will like.
MIXXX
We started with the cheapest of all. Specifically it costs zero euros -yes, yes free! -. Mixxx is a free software application platform open to everyone and even available on the Mac App Store. Only accepts MP3, MP4 / AAC, FLAC and OGG, but integrates with iTunes, which we appreciate all those who understand us better with the organization and playlists from iTunes.
The detection engine to synchronize BPM is quite good. In some tests I've done with various themes has quite accurately successful and has auto mix . Discerning should know that is compatible with control vinyl timecode, so we can use it to emulate vinyl forever. Can record our sessions, retransmit and, of course, use the typical equalizers, mixers , hotcues , loops .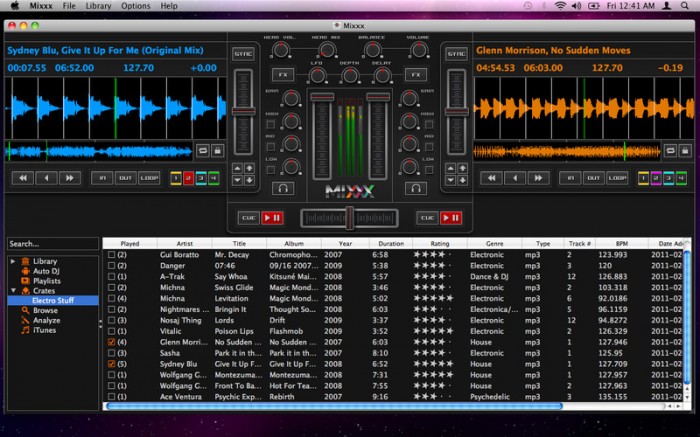 Only it has two plates or channels, enough for most, but one of the most significant developments are the four samplers to quickly throw a base or a few vocal effects. The interesting thing is you can choose which channel you want to go.
Finally , it includes support for 30 MIDI controllers of various brands such as Numark, Vestax or Hercules and as a bonus includes 5 skins different. It's translated into Spanish and Catalan. If you want to try yourluck in the world of DJ, you can not let it go.
djay
Another great application also available on the Mac App Store for $ 49.95 algoriddim our old acquaintances. Its application for iPad is pretty good and so does its version for Mac. I think it's a very good, easy to use and with a very clear interface. It also integrates with iTunes and includes automix or recording of the session.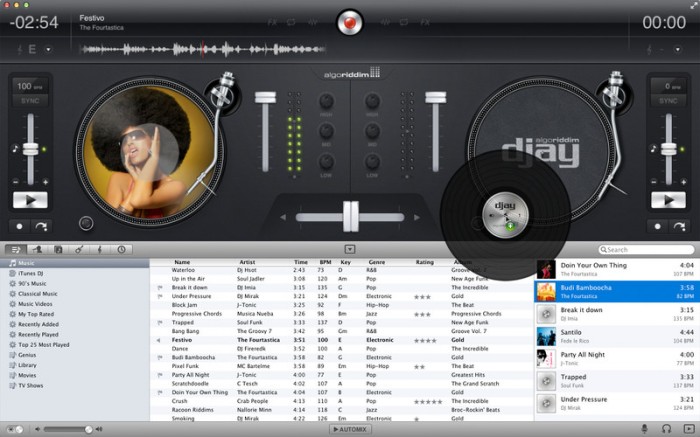 The good news is that algoriddim along very well with everything that has to do with Apple. In this case, you can use the trackpad multitouch to control the equalizers or to scratch . The most remarkable and what differentiates djay from other programs is the Harmonic Match analyzes the tone of subjects for the mixture is harmonically perfect; all a story in the scene . It also includes AirPlay to relay our in Septemberon any compatible receiver.
Best of making applications for OS X and iOS is integration between them. The djay applications are synchronized between them through iCloud to synchronize points cue and other information. Obviously it is also compatible with various MIDI controllers and allows different configurations for cueing.
Virtual DJ
This is already a classic. I started this and I have the impression that Virtual DJ is just that: an application to start. His most expensive version, however, it becomes a real tool for professionals. I have not yet had the taste to try it , but they say the BeatLock engine is good to discuss any subject and always in beat .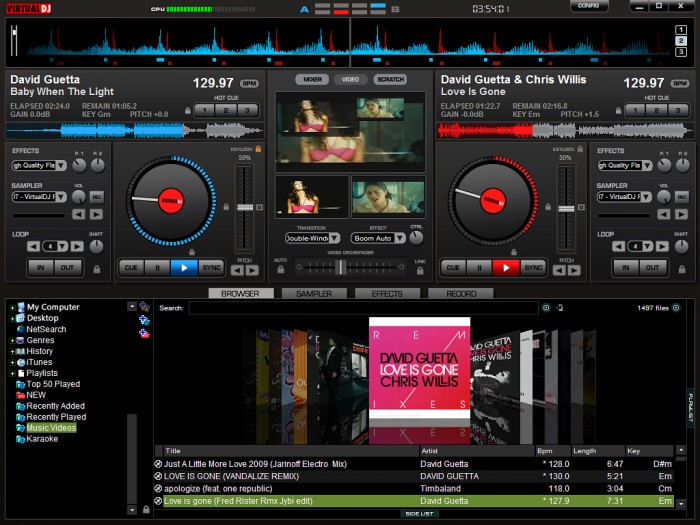 Of course also it includes loops , samplers , form of overlapping waves, tavés control of timecode vinyls, etc. In short, everything including the above. VirtualDJ differs from the rest by also be a software that allows you to send mixed video signal to a monitor or projector. Not delve more on this feature, because today we focus on audio. Unlike other applications, VirtualDJ allows up to 99 decks simultaneously.
There is a basic edition for $ 99 driverless, or timecodes and a professional for $ 299, plus a fairly complete free Home version to start. You can take a look at the comparison of versions on this page .
Traktor
For me it is the software by excellence used by disc jockeys with more popularity around the worldas Richie Hawtin, Dubfire, Carl Craig or Loco Dice, to name a few. It is the software more stable and that ultimately offers a bit of everything with very good quality both for mixing to create music.
Native Instruments hace_software_ not only, but also hardware and drivers of various kinds and various prices. Most prices within the reach of few who do not want to devote a little more to it. So the integrationhardware and software is a plus for this program.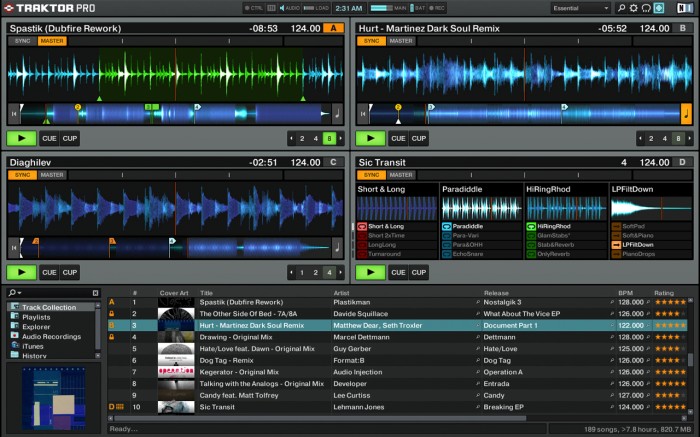 There are a couple of programs that allow you to easily make mapping MIDI controllers of any brand. In thelatest versions include the Decks Remix that let you play small parts in loop or sample directly recorded live. This is a trend that comes to the fore: sell items for parties and live remixing.
Traktor is able to send the Master Tempo as MIDI to other computers and devices, so you can do a live session with 10 people over to your side and each to his roll. The effects are another of the positives. Traktor can assign effects to multiple decks and the only way left to set specific parameters of an effect. Finally he is able to synchronize with the application for iPad through Dropbox.
These are some of the most important applications for Mac OS X. We've collected some of the most relevant and we know that there are many more like Torq, Ableton Serato Scratch or other free alternatives by the App Store as Free CrosDJ for example.